Why rent a catamaran in Italy? – Catamaran Charter Benefits
Largest fleet of catamarans in Italy to choose from
With many years of experience in nautical tourism, it is fully understandable why there is a big demand for catamaran rentals in Italy. With that conclusion, we'll draw out a few facts about catamaran yachts: above all, catamarans are considerably larger than all other sailing boats. With a large deck and four spacious cabins (two in every hull), they are made to give you the feeling of relaxation and enjoyment of the beautiful Italian Riviera. The vast majority of catamarans in Italy offer amazing and comfortable trampoline nets in the front of the boat and a shaded cockpit in the back. Rent a catamaran in Italy and find out why they offer superb sailing experiences! In addition, catamarans have a shallow draft, which allows them to anchor in shallower waters and get closer to the shore, giving you access to secluded coves and beaches that other boats can't reach. Furthermore, their stability makes them perfect for those who are prone to seasickness or for families with children.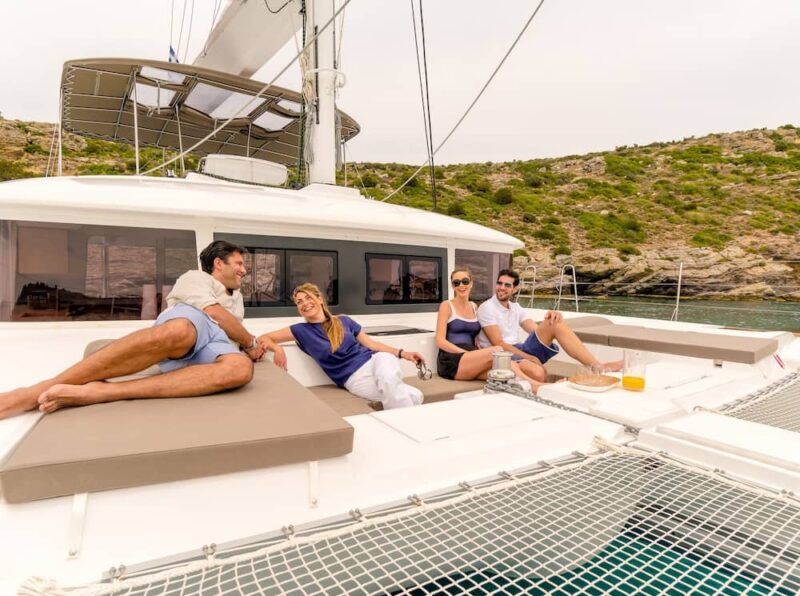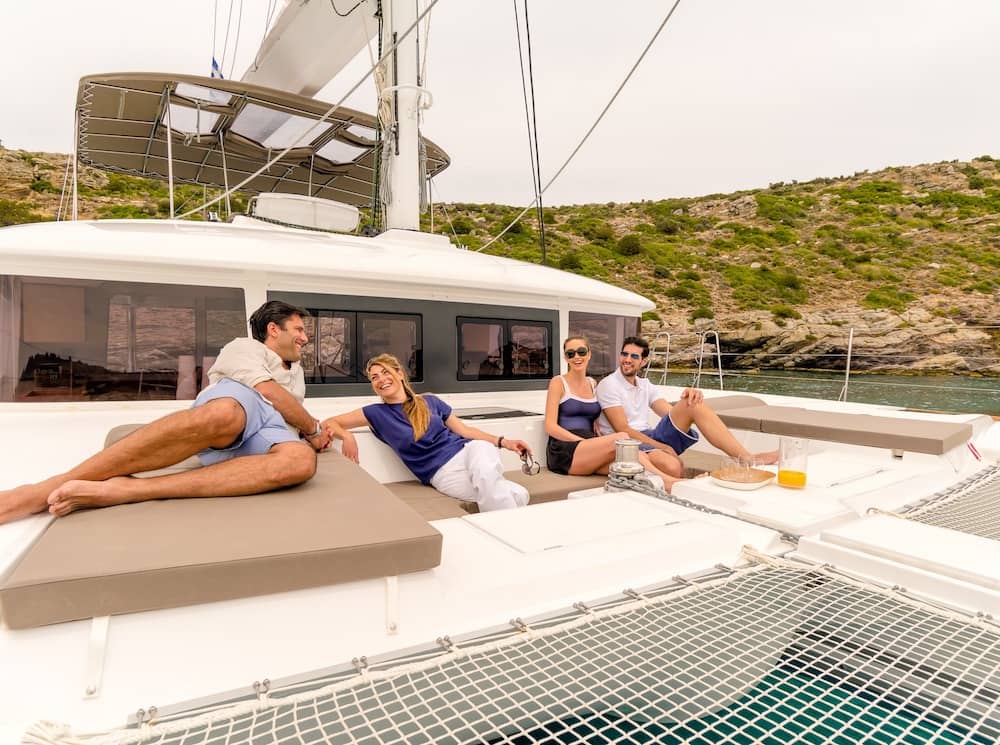 All catamaran brands and models available for sailing around Italy's islands
We, at www.catamarancharteritaly.com, have all catamarans for charter in Italy. This includes smaller multihulls suitable for up to 10 people as well as large luxury catamarans with crew included. The crew can include a skipper, hostess, and cook.
Our multihull offering can be found on all our catamarans.
Despite being very big, cats have shallow draft, which is ideal for anchorage in secluded bays all over the Italia coastline. You can easily enter the shallow bays where most sailing yachts cannot, closer to the coast or a beach. Catamaran cruising is an attractive way to enjoy sailing without sacrificing the comfort of your home, with large cabins and bathrooms and a big saloon with a kitchen. In our additional offer, we also have a safety net that can be installed, so you can leave children on deck without fear of them falling overboard.
Catamarans are ideal for spending a sailing holiday with family and friends.
In our Charter Catamaran Italy fleet, we have the famous Bali 4.0 catamaran for rent, as well as other prominent models like Lagoon 39, Lagoon 380, Lagoon 400, Nautitech 40, Bali 4.5, the big luxury vessels Lagoon 50, Lagoon 52, Lagoon 620, Lagoon 560, Fountaine Pajot Saba 50, and the last one, the Bali 5.4. With our wide range of catamarans, we offer something for everyone, from smaller models for couples or small families to larger luxury vessels for bigger groups. Our fleet is well-maintained and equipped with everything you need for a comfortable and enjoyable sailing experience in the beautiful waters of Italy.
Multihull history
Catamarans for charter were not invented in Italy, as the main idea and design for double and triple hull boats existed for over 3000 years. It was used by fishing community paravas at the southern coast of Tamilnadu, India. That's why the word catamaran originates from the Tamil language, in which the word kattumaram means "logs bound together".
Later, these types of yachts (also known as cat boats) have been used for transport and fishing in the coastal waters of New England. At the beginning of the 19th century, multihulls were used for racing. In the 20th century, catamarans were mainly used for charter, weekly sailing, and leisure cruises.
Accommodation and comfort
Catamaran Charter Italy offers catamarans for rent in Italy that can accommodate up to 12 guests in different combinations of cabins. Also depending on length, they have from 2 to 5 toilets or showers. Many catamarans can be chartered bareboat (no crew required; a nautical license is required), skippered, or fully crewed.
As starting points for catamaran charters, a number of cities and towns are available.
Catamarans sail like sailboats but have a lot more advantages. Among many advantages, comfort, security, stability, and speed are the main ones. Having two hulls and two keels, catamarans are extremely fast, stable, and most importantly, safe. Considering that they have minimal slope while sailing, they are the perfect choice for people who do not tolerate waves and rough seas.
As a result of the catamaran's stability, you can experience more while sailing the Italian coast, regardless of the meltemi wind, waves, or weather. Thanks to the large sail area and better stability, they can generally sail much faster than regular monohulls (sailing boats). They are equipped with two widely separated engines, and because of that, they are much easier to handle. It's very useful when maneuvering in tight marinas and small bays.  It is reasonable to say that catamarans for rent in Italy are the perfect blend of pleasure and comfort for sailing all around Italy's islands.
Thanks to two separate hulls, the catamaran can offer more privacy and amazing views from the elevated salon that is located in the center of the boat. We could easily say that the only setback when chartering a double hulled yacht is the overall higher price and more expensive fees in harbors, buoys, and marinas. We have to offer you more than 100 multihulls for charter in Italy, from renowned brands such as Fountane Pajot, Lagoon, Nautitech, Catana, Leopard, Privilege, and also a brand new name in catamarans, Dufour. With the added benefit of stability, catamarans are ideal for those who may experience seasickness, making them a great option for families with children. Additionally, the spacious layout and ample storage space make catamarans a comfortable choice for longer trips.
Catamaran Charter in Italy facts
Catamarans are model of yachts / boats that have two hulls connected with large comfort middle area, equal in size. Their speed is very high, making catamarans a good choice for large distance of sailing at the Cyclades where you have a bigger distance from one island d to another.
   They are faster on average thank sailing boats monohuls.
   Thanks to their wide beam, they are less likely to capsize, but are often leaning to 'pole-axe' (or 'pitchpole') instead.
Sailing school for licenses usually uses standard monohulls for teaching because they are easier for learning how to sail.
Note: Because of high demand for Catamaran Charter in Italy, we advise booking catamaran at least 4 to 8 months in advance so you can get the best possible catamaran with early booking discounts!
Performance of catamarans
Because of there amazing design, catamarans top speed can be achieve when is not overly disrupted by the waves. It can be accomplish when the wavelength is considerable longer then the hulls, but can be also accomplish by braking the waves. In either case pitching (rocking horse-like motion) is reduced. Because of all this, catamarans are favorable in coastal waters. Catamarans are ideal cruising and long range boats because of there stability and because of that are favorite choice for every sailor that wants to come to Italy and sail the coast with more histoy than anywhere in the world.
Over 45 feet long catamarans provide comfort with touch of luxury and lots of style. They are ideal for pleasant sailing vacation in Italy. Standard catamaran have 4 cabins and the larger models have 5 double cabins, with separate quarters in front of the hulls for the crew. There are also owners versions that have 3 cabins, with the layout of one large cabins with bathroom in one hull and two cabins with bathrooms in other hull. Prices for this kind of yachts are in range from 3.000,00 Euros up to 25.000,00 Euros per week charter in Italy.
Benefits of catamaran charter
Advantages:
More space on deck, saloon and cabins
Faster sailing
Large cabins with king size beds
Shallow draft
Amazing stability
Children Safety
Sending the inquiry for a catamaran charter in Italy, our booking managers will send you our offer of yachts available in that specific week. Please fill the inquiry with all the details so we can send you the best possible offer.
The offer will include original photos of every catamaran, week charter price, additional options that can be rented (skipper, hostess, Stand up paddle, Kayak, … )
Additional obligatory extras (finale cleaning, security deposit)